ENDURO AFRICA 2008
Date:
October 2008
Yu Seung(91781868) & Rosalind Ng(97947394) will ride 2400km over 8 days in South Africa's most
Rugged off-Road Terrain in the nam of the Charity.
They Will each give $13 000.
They will fly there(South Africa) &
be provided with bikes for the ride.
The 3 Charities:
UNICEF, Nelson Mandela Children't Fund & Sentebale
How U can Help them:
By your sponsership...
1. Cash Cheque Support
2. Purchase of Sins Chocolate vouchers
Enduro Africa is a unique and challenging motorcycle adventure in
aid of 4 amazing causes - UNICEF, Sentebale – The Princes' Fund for Lesotho, the Nelson Mandela Children's Fund and Touch Africa.
The Enduro Africa route is constantly evolving, for this year motorcycle adventurers from all over the world will tackle 8 days of dusty and demanding riding through some of South Africa's most rugged and isolated terrain – the famous Wild Coast. The adventure itself is 12 days UK to UK.
With enormous support from the global biking family and the cream of the world's biking press, Enduro Africa aims to raise at least £150,000 for South Africa and Lesotho. By joining us and raising money to take part, you will be helping to save the lives of some of Africa's poorest people.
By taking up the Enduro Africa challenge you will become part of a life-changing adventure, the memories of which will remain with you forever.
Please Make Payment Cash/Cheque to POH YU SEUNG Posb 709-17110-0
Address:
Blk 12 Dover Close East #09-206 Singapore 130012
Click for their Blog & More Info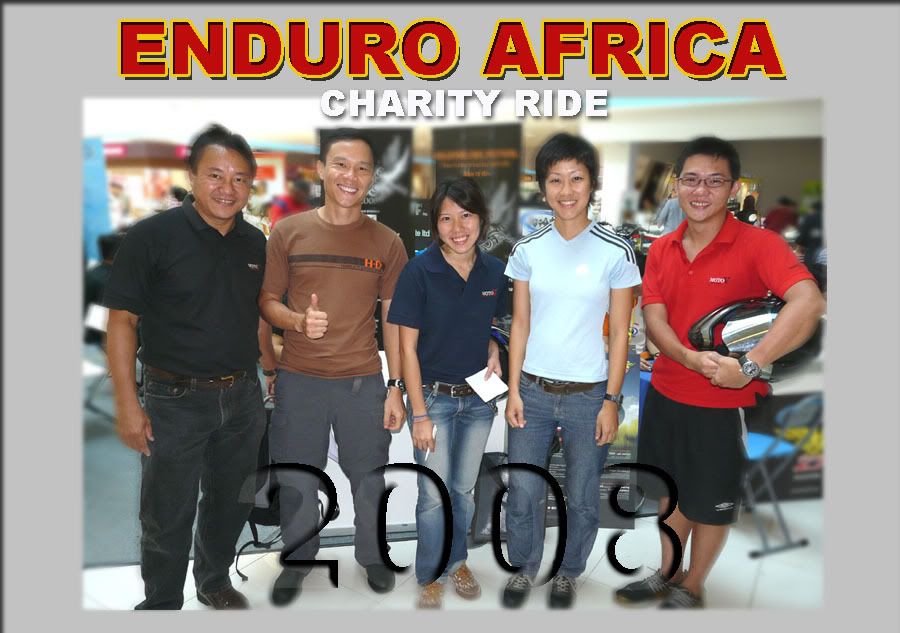 Spectrum: Was introduce to this couple Yu Seung & Rosalind by Denden @ the Spore Bike Fest
They are raising awareness of the needs of South African people/children.
Do feel generous in sharing their effort in raising funds for the 3 charities.
They in many way carry our nation flag.
And it will be good for all of us to be part of it.