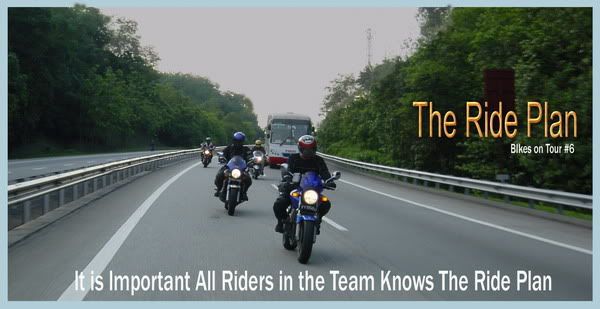 Riding with Team Moto-V
Welcome to the Team Moto-V
Hope u will have many enjoyable & safe rides with Us.
Guide for the Team

1. Be Courteous
Bike should be in Good Condition
(If u service your bike... do it a week before the ride.
Any problem surfacing... Repair in Spore be easier & not delay the team)
Get to know the rest of the team.
Smile & say Hi!
2. Be On time
Won't be nice to let your team wait too long for u.
(Msg me if u gonna be late the time u be reaching or unable to come)
The time given for departure is "On Your Bike Ready To Go!"
All Loaded, jacket & helmets on....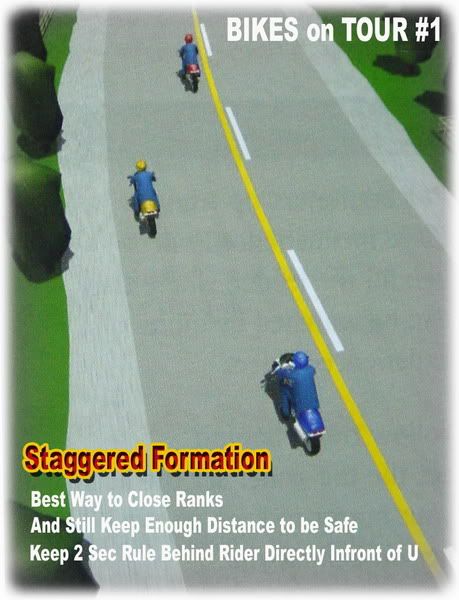 3. Staggered Formation
Staggered Formation on
One Lane
Staggered Formation will give us space for manoeuver.
And space on the side if bike has a problem.
Follow the Leader on the lane he decides.
Two Lines...
The Leader should be able to see the last Bike(Sweeper)
Overtake the slower bikes if he is unable to keep up & let him stay behind with the sweeper.
Strength in numbers.
Most cars will give way to our convoy.
Otherwise we will overtake slowly & carefully on his left.
Speed:
Will ride at a speed that will overtake most of the traffic at a slow rate.
As such, we would be on the overtaking lane along the highway a fair bit.
Signal and Move Left if a Faster vehicle is coming from the behind
Flash the one infront to do likewise.
2nd Link:
110kmh (ever present speed traps)
4. Over Take on the Right
There will be rare times when traffic is slow and we overtake on the left.
Or when vehicle road hog (We are not gonna follow him all the way to KL)
Overtake slowly...
May use breakdown lane... in a crawling jam... look out for debris.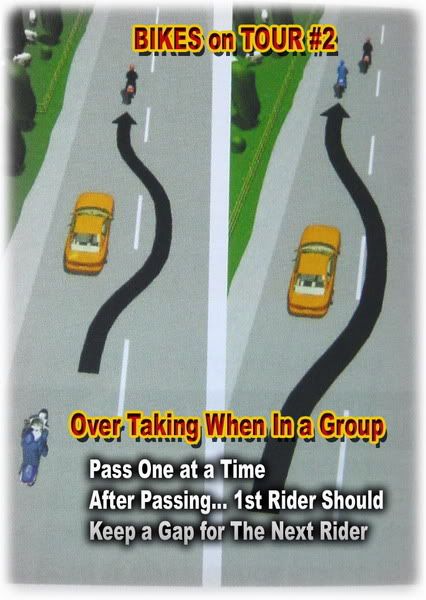 5. When Overtaking
Do So when it is safe.
Do not be pressured to overtake.
We will wait for u.
On the other hand... overtake
quickly
when the opportunity arise.
Until u do... the rest behind can't.
Pass and and move forward. Space for the back to overtake.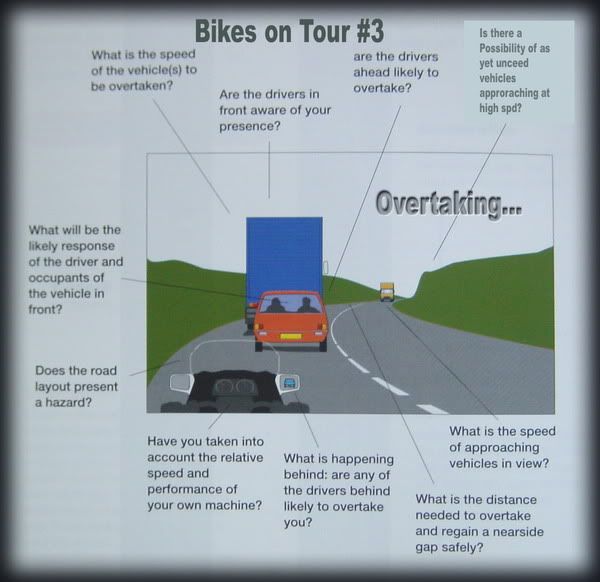 6. Know the Ride Plan
Know the route, km to run & rest point.
Will help to find the team if separated.
Don't just follow lah...
7. Hand Signals
Point to the tank if u need fuel.
To your head if u need rest...
Wave to the last bike to continue if u just
wanna stop for Some non-emer stuff eg wearing sunglasses...
Quickly catch up after that.
Exception: If u are sleepy and wants to speed ahead
Wave to the Leader when u over take him.
Join back the convoy when u are refresh.
U may also wait at the arrange rest point.
Being 1st. U will be the marker. Do Not! leave till u see the Sweeper.
8. MarkersOn Quiet Country Roads...
The Leader
may break formation & open up the pace.
Because of the time required for overtaking...
U may lose sight of the front bikers...
Don't Worry.
Keep to your safe pace... enjoy the roads.
Leader Will leave markers for u.
Important! Don't bunch up!
Keep a wider safety distance between bikes..
Approaching a Junction
If there are
no markers
GO STRAIGHT!
Anyone riding behind the leader automatically becomes a marker
When Pointed to a location to mark...
Park a safe spot.
Signal lite on the direction of turn.
Watch out for stones that usually gather around junctions.
Wait for the
last bike
to pass...
Then move back to the front.
Team:
please let the marker thru.
9. Last Bike
He will be
last
to make sure no one is left behind.
When Formation Riding is in Order:
(Highways or Designated Trunk Roads)
It is important not to hold the team by
riding too slowly
.
If u see the gap for the bike in front is getting bigger...
U are too slow! catch up!
If the bike in front of u leaves a big gap
Give him some time to catch up
And if he doesn't...
Overtake
him - let bikes that cannot keep formation drop to the back.
Last bike will take care of them.
The Formation
should be tight enough to be safe
And not let any other vehicle get in between.
They are a source of
danger
when the infiltrate our formation.
That includes bikes not from our team.
It is also courteous not to cut in but to maintain position.
10. Lost
If u are lost... Msg/call me. Don't Worry.
Will give u direction to return to the team.
May not get me immediately as I be riding.
But will return your call at regroup pt.
(please Pm me your Hp & a Next of Kin if u have not done it)
11. Choose a Buddy
Buddy someone...
It is the quickest way to know if u are missing or need help.
It is important for each to be responsible in his style of riding.
Safe rides is a culture with this team and
We look after each other at all levels.
Biking has it's risk... we like to keep it at a Minimum.
12. Bike Type
For day trip: All bikes welcome (must have engine lah)
For longer trip: S4... or similar performance
Long rides will be too stressful for smaller bikes.
Both the rider & team.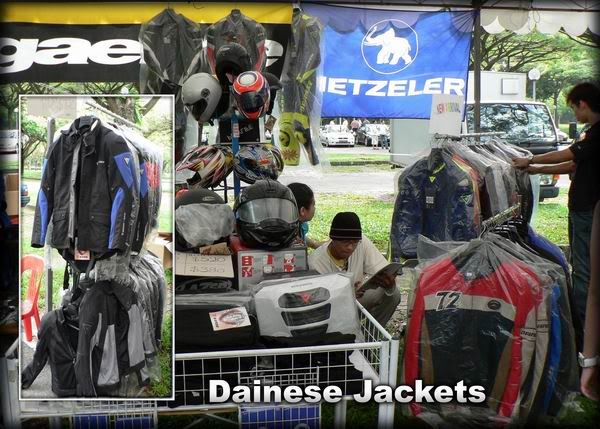 13. Wear Protection

Riding Jacket, jeans/touring pants & Shoes (boots will be gd)

Gloves.

Last line of defence to injury if we do fall.

Full face will help protect your chin/face.

I Know it is a little hot... but once on the move.

It is comfortable.

Always have your

rain suit

with u.

14. One Lane Please

Stay in two lines within one lane.

The Lead will decide the lane to use.

Be it left or overtaking lane.

Help the Lead Bike in accounting for all the bikes.

When he looks back...

He should see

2 lines

of bikes with the last bike in the

center

.

Especially so at traffic junctions when in formation.

Do not overtake the Leader

- If u need to go ahead.. overtake convoy safely & slowly..

Wave to lead bike that u riding ahead.

Some time fatigue sets in riding in formation & u need a blast.

Join the team once u had enough or be the marker at the rest exit.

15. In Bigger Towns:

Keep in close formation.

Two clear line such that the lead bike be able to see the last bike.

Especially at Traffic lights & heavy traffic.

With plenty of junctions.

Remember! No markers - go Straight!

The essential here is

not

to lose anyone!

16. See Children... Wave

We are guest of their country. We must always remember that.

Be Respectful to properties & people we come in contact with.

Somehow with our riding gears... we do look intimidating.

But a wave to the kids always brings a smile.

They are always happy to see us.

:smile:

Riding thru towns & villages (Kampong):

reduce your speed

The Team

will do it's best to keep everyone safe.

That means

you

too will have an important part to play.

For yourself & your team mates.

So let take good care of one another!

There is no Glory if u Crash

The Ride will be delay & plans may have to change.

Injury to your body & damage to your bike.

(Tour back cost between $500-$1000rm to Spore)

Enjoy Your Ride but come home Safe

Important!



As riding has it's risk.
Joining our rides will mean you accept responsible for your own safety.

IMPORTANT

MOTO-V IDEMNITY CLAUSE

We will do our very best to ensure the safety of everyone in trip.

But motorcycle riding has itís risk and we need you toÖ

1. Not to hold any of us liable or responsible in any respect and not to institute any legal proceeding for any act, omission, default or neglect or from any injury or death.

2. To indemnity all of us and keep you fully indemnified from and against all actions, proceedings, claims, demands, cost (on an indemnity basis), expenses, damages, awards and interest (as well after as before any judgments) whatsoever and howsoever arising directly or indirectly as a result of any or omission (whether negligent or not) of mine / any of us during the entire trip.

Joinning Our Rides Will Mean You Accept the Above IDEMNITY Clause